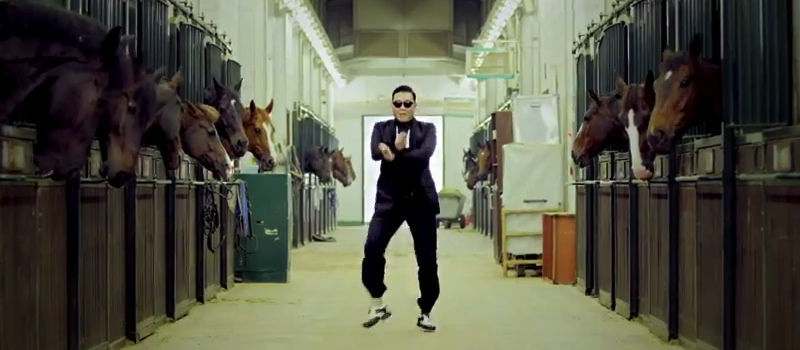 Analyzing the behavior of the younger generations, and how they use the online world, is critical for understanding the long-term trends of any industry. What is happening with the music world is making a lot of executives uneasy.
Very few people that regularly use the Internet do not know the Korean Rapper PSY and his hit song, Oppa Gangnam Style. Or Brazil's Michel Teló and his hit "If I catch you".  They have achieved a level of online success, so fast, that has no rivals in the music world. Oppa Gangnam has broken the previous record of likes in Youtube, achieving over 2 million Likes; Guiness World Records has formally recognized the feat. He did what no other Korean pop singers or bands ever did: take the world by storm.
Korean pop bands, or K-pop, have tried several times to break-in into the American market. They had strong support from labels, lots of money invested, and no significant results. Out of the dark comes a rapper and rises meteorically. I remember the first time that I watched the video; it was a link from a meme site. Since it was in the early stages of the viral effect, I watched people in Brazil as they started to catch on with the video. He mastered he combination of creating something unique, fun, but more importantly, he understood what people wanted. If he did it by good luck, or if he actually designed it to have that effect, it doesn't matter. He achieved it.
The online world is an open door to everybody. You don't need someone to promote you, you just have to be talented on what you want to do, and understand how to communicate with people. Record labels are slowly noticing it, and getting scared. Why do you need the middlemen in a business that you can drive yourself? Will you have a wider audience, have more fans or make more money if you sign with a traditional label? That is getting harder to justify, and some artists are making a living without the traditional approach.
My brother-in-law is a musician, and the band that he plays at, Pedra Letícia, offers a large part of their songs online, free-of-charge. They print older CDs and give them away at live performances; they interact heavily with their fans in'' Twitter and Facebook. This strategy is working well as they are getting more and more requests. They make their money by performing live, which gives them a chance to further interact with their fan base. It is a trend that is much more satisfying for musicians, and, unsurprisingly, getting a lot of traction. The last CD is being sold through Facebook, allowing them to retain a larger portion of the revenues.
I would be naïve if I said that everything has changed. If you manage to get an online hit, you will have several recording labels chasing you around to get a contract. That is fine, but for the majority of musicians that will never be the case, and the Internet became their main communication channel with their fans.  Making a living out of music, if you are not a mainstream artist, is very hard. Traveling, hauling large pieces of equipment, getting local promoters to schedule shows, that is the daily life of a band. With the reduction of the digital divide, the potential fan base widens, and the benefits increase too.
Audio recording and video editing, activities that required expensive dedicated equipment a couple of decades ago, can now be done at home or in cheaper studios. High-definition video recording is now integrated in smartphones; audio recording equipment is now available for laptops and desktops.
Kids and teenagers have understood this, and they are experimenting more and more. They understand the importance of getting their feet online, and that is exactly why we need to push for more digital inclusion efforts. Kids in the upper social economic classes are already connected; now it is our turn to extend the benefits to the lower social economic classes. This will help in securing that a country's culture is recorded, preserved and made available to a wider audience.
So, what is your opinion?
Cheers,
Caetano Notari
Recommended Reading:
What is the status of the digital divide?